RELAUNCH
First Baptist Church of Tolland
is now

Cider Mill Christian Fellowship

.
After 50 years of ministry in Tolland County, it's time for a
new start. And that's just what we are doing.
In 2018 we began
a relaunch of this great church.
First Baptist Church has had a long fruitful ministry in the
town of Tolland. Through the sacrifice and servanthood of
hundreds of people, this church grew from a home prayer meeting to a church where hundreds of people came to know and love our Lord and Savior, Jesus. It is through the faithfulness and hard work of those who came before us that we have the opportunity to forge a new future for this ministry.
We are now reorganizing our ministries to reach a new
generation of people.
Our desire is to reach our communities with the Gospel
– to dream again about the future – to hear the sounds of young children in the sanctuary – to see new people serving as leaders – and
to help people discover the joy of desperate dependence upon Jesus Christ.
If you are looking for a great church, then you will find it here.
There is a place for you at Cider Mill Christian Fellowship.
Whether you are young or "young at heart" we value you.
Each Sunday morning our worship team leads us in extraordinary
worship that inspires our hearts. You will hear messages
that are rich and powerful and directly from God's Word. You will get to know people in the surrounding communities that have a heart to know God and love one another. And best of all, you will become part of a great adventure of planting a new church that seeks to glorify Jesus Christ as God, Savior, Redeemer, King and Friend.
We invite you to come and join us on this new and exciting journey.
Every Sunday at 9:30AM we have Bible Fellowship for all ages.
We have one worship service beginning at 10:45AM.
We also have a wonderful time of worship, prayer and study
each Wednesday at 6:30PM.
Come Visit and Become Part of the New Thing God is doing
at Cider Mill Christian Fellowship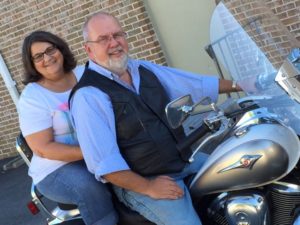 Pastor Tim
and Missy Vamosi
Pastor Tim is a passionate follower of Jesus Christ who has served in four churches prior to arriving at Cider Mill Christian Fellowship. He is driven in his love for the Church and his love for the children of God. He loves teaching the Word of God and seeing lives transformed by the amazing grace of our Savior.
Contact him at: timvamosi@gmail.com